Wheelchair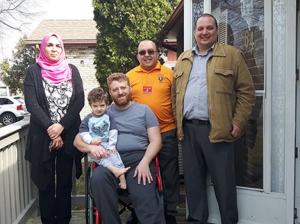 Since 2003, the Knights of Columbus have sponsored the delivery of tens of thousands of wheelchairs to people in need all over the world, showing exemplary compassion, generosity, and dedication to bringing mobility to those in need.
Councils, parishes or individuals are able to sponsor entire containers to the country of their choice. Wheelchair Sunday parish drives are held in churches across the country and have sponsored thousands of wheelchairs to far away places, as Sierra Leone and Vietnam.
Knights and their families themselves travel to get involved in a life changing hands-on mission that allows children, teens and adults around the world to have their prayers answered with the gift of hope, freedom, dignity, independence…a wheelchair!
Our Commitment to Sustainable Development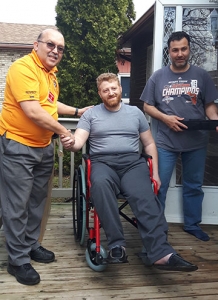 The Canadian Wheelchair Foundation/Foundation Chaise Roulante Canada (CWF) is committed to perpetuating sustainable development. While wheelchairs can be categorized as humanitarian aid, they have proven to be a proficient tool of sustainable development in all the communities where we have ongoing programs.
CWF maintains a strong capacity building mandate. The mobility wheelchairs provide makes them an important tool of empowerment. In gaining mobility, persons with disabilities are given an opportunity to integrate themselves into society; by attending school, going to work, and becoming a part of the community. In addressing the needs of the disabled community, and thereby acknowledging their value as citizens, CWF promotes accessibility and integration.
The importance of creating a strong civil society is an important step in creating lasting development. By giving people a means to help themselves through use of a wheelchair, The Knight of Columbus in partnership with CWF is helping to transform "development aid" into development opportunity.
For more information please contact Community Director Mario Duguay: communitydirector@ontariokofc.ca or stateoffice@ontariokofc.ca or call 1800-759-0959.
Canadian Wheelchair Foundation
Fondation Chaise Roulante Canada