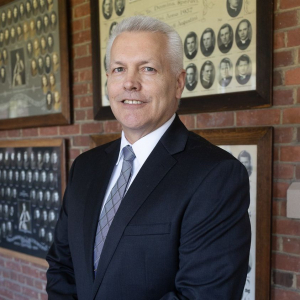 Toronto's Largest Permanent Diaconate Ordination in Years a Testament to the Service of All Deacons
18/June/2022
Source: Archdiocese of Toronto
20 Men to be ordained to the permanent diaconate
This​​ Saturday, June 18 at 10 a.m., 20 men​ will be ordained permanent deacons in service to the Archdiocese of Toronto. Their ministry begins in Toronto's St. Michael's Cathedral Basilica, but will extend far beyond the walls of any church.  Kevin Daudlin, Past State Deputy, is one of the new deacons that receive the permanent Diaconate Ordination in the Archdiocese of Toronto. Read more…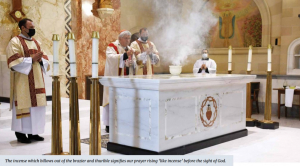 New Altar in St. Augustine's Chapel Consecrated at Special Mass
22/October/2021
Source: St. Augustine's Seminary
(St. Augustine Seminary Newsletter – Fall 2021)
His Eminence Thomas Cardinal Collins consecrated the new altar in the Seminary's Chapel at a special mass August 31, 2021, just in time for the new academic and formation year at St. Augustine's. Read more…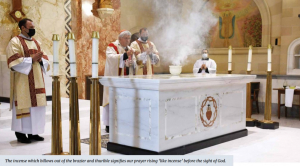 New Altar in St. Augustine's Chapel Consecrated at Special Mass
22/October/2021
Source: St. Augustine's Seminary
(St. Augustine Seminary Newsletter – Fall 2021)
His Eminence Thomas Cardinal Collins consecrated the new altar in the Seminary's Chapel at a special mass August 31, 2021, just in time for the new academic and formation year at St. Augustine's. Read more…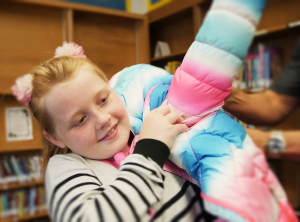 Knights of Columbus provide "Coats for Kids" for HWCDSB students
18/December/2020
Source: Hamilton-Wentworth Catholic School Board
(The Buzz Board)
A total of 500 students across the Hamilton-Wentworth Catholic District School Board will be protected from the winter elements, thanks to a 'Coats for Kids' initiative run by the Knights of Columbus.
Coats for Kids evolved from a conversation in 2015 ago between Neil Bouvier, General Agent for the Knights of Columbus Insurance Program and Nat Gallo, a retired Catholic secondary school principal regarding a project that the councils could do together. Gallo, a former Supreme Director with the Knights of Columbus Supreme Board suggested Coats for Kids, a program initiated by the Supreme Board in 2009 to provide needy children with warm winter coats… Read more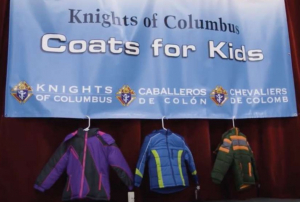 Winter clothing programs gear up for a season unlike any other
15/November/2020
Source: Wendy-Ann Clarke, The Catholic Register
(The Catholic Register)
With the cold weather of a Canadian winter right around the corner, organizations that collect winter clothes for distribution to the needy are stepping into high gear.
Winter coats in the best of times are often pricey for low-income families struggling to make ends meet. Programs like the Coats for Kids run by Knights of Columbus Ontario are working to make sure every child who needs a winter coat this year will have one… Read more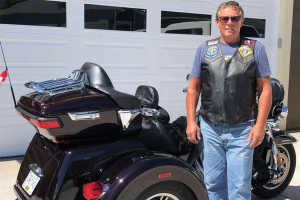 Catholic bikers get their motors running
02/October/2020
Source: The Catholic Register
By Agnieszka Ruck, Canadian Catholic News
VANCOUVER — Wayne Reville first got his motorcycle licence at age 19, and he hasn't lost his love for riding since.
Fifty years and a few degrees into the Knights of Columbus later, the Okanagan Valley resident's hobby has taken up a whole new meaning. Reville has just become B.C.'s first provincial president for Knights on Bikes, an organization of Knights of Columbus members who own motorcycles. Read more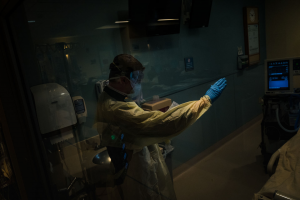 The Last Anointing
08/June/2020
New Children's Rosary forms in Ontario, Canada!
8/Oct/2019
Source: Children's Rosary
Happy Feast of Our Lady of the Rosary! We are excited to share that a new Children's Rosary has formed at St. Lawrence the Martyr Parish in Hamilton, Ontario Canada. They held their first meeting on Saturday October 5th. This new group has chosen to hold their meetings monthly on the first Saturday of the month. Their Parish priest Fr. Peter Jurzyk can be seen in the upper picture… Read more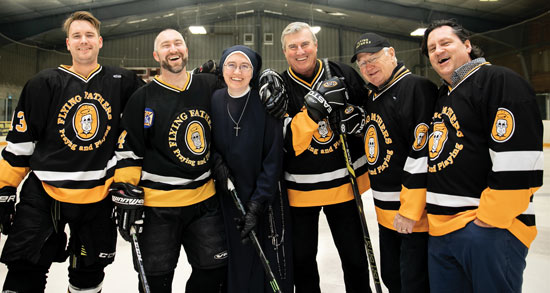 THE RESURRECTION OF THE FLYING FATHERS
4/1/2019
By Meagan Hoegler
Can hockey make the world better? The players and managers of the Flying Fathers think so. From left, Father Paul Patrick, Father John Perdue, Sister Mary Catherine Perdue (aka Sister Mary Shooter) and Father David Berezowski hit the ice to help revive the legendary Canadian charity team. Frank Quinn, second from right, managed the original team for decades; Barrie Shultz manages the new team. Photo by Ash Nayler … Read more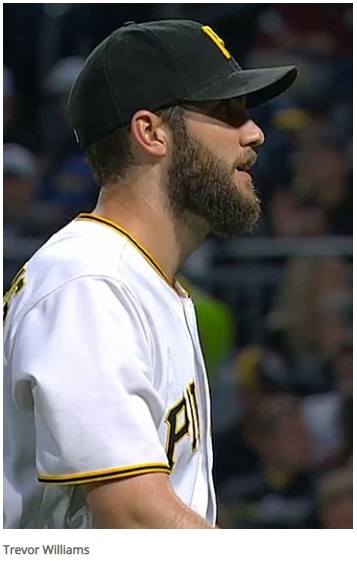 BEING A KNIGHT IS PART OF WHO I AM
2/12/2019
By Andrew Fowler
It's July 11 and the Pittsburgh Pirates' starting right-hander Trevor Williams, a Knights of Columbus member, is in the midst of a skid.
In the beginning of his third season in Major League Baseball (MLB), Williams posted a 2.72 earned run average (ERA) and won five games. But by early July, his ERA had jumped up to 4.60 and he was 6-7 on the season for wins and losses. That Wednesday afternoon, he was scheduled to square off against the Washington Nationals.
Before he took the mound, sitting in front of his locker with a St. Benedict crucifix on it, Williams said a prayer: "Jesus I trust in you." On his left wrist, just below where the glove ends, is a tattoo of the letters AMDG, an abbreviation for the Latin phrase Ad maiorem Dei gloriam, "For the greater glory of God." He sees the letters before every pitch he makes… Read more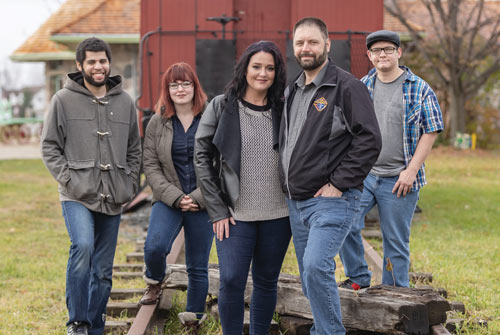 'THEY'RE MY FAMILY'
1/1/2019
by Agnieszka Ruck
AN UNCONVENTIONAL K OF C FAMILY BEARS WITNESS TO THE MEANING OF UNCONDITIONAL LOVE
Patti Harrison was just looking for hope. She was young, scared and pregnant, and didn't know where to turn… Read more
Council #4386 – Breakfast with Santa
Holy Family Council #4386 of Windsor On hosted their annual Breakfast with Santa event for Junior and Senior Kindergarten students from 5 schools. There were 8 days involved during December 2018. There were 28 volunteers totalling 350 hours of service during the event. The council was able to raise $ 2500 which will be donated to charities which better the lives of children in Windsor and Essex County. PGK Denis Lortie and his wife Joanne are the chairperson for this wonderful event. Many thanks go out to the Lorties for their time and dedication to our event.