National March for Life (May 7 – 12, 2023)
The Knights of Columbus Ontario shows public support for the right to life. Councils in Ontario are encouraged to participate in or sponsor national Marches for Life.
This year's March for Life theme: STAND FIRM
We  "STAND FIRM" for the pre-born, mothers in crisis pregnancies, those targeted due to disability, and the elderly in hospitals and care homes"  – marchforlife.ca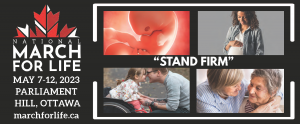 The National March for Life is Thursday May 11 on Parliament Hill in Ottawa.
There are three important March for Life events.
The March for Life masses begin at 10 am at the Notre-Dame Cathedral (385 Sussex Dr), St Patrick's Basilica (220 Kent St.) and St Clements Church (Latin) (528 Old St Patrick St.).
The March for Life rally begins at 12:30 pm on Parliament Hill.
The March for Life Rose Dinner begins at 6 pm at the Ottawa Conference & Events Centre (200 Coventry Rd.)
Tickets for the March for Life ($125 per person) must be purchased in advance.
All information is available at www.marchforlife.ca
The Knights of Columbus need March for Life volunteers. We need members to volunteers to distribute signs and to be March for Life Marshalls.
To volunteer contact Brother Alex Schadenberg at: alexschadenberg@on.aibn.com