Community Pillar – Global Wheelchair Mission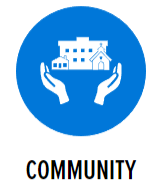 Overview. Since 2006 the Order in Ontario has been a vital part of the Global Wheelchair Mission Program. Every year a small delegation accompanies a shipment of wheelchairs to their destination to personally help with their distribution. Recently, wheelchairs have been delivered to citizens of all ages in Mexico, Costa Rica, Dominican Republic and Panama who otherwise would have had no means of getting a wheelchair.
The mobility each wheelchair provides gives independence, freedom and hope for a better life to their user, as well as their caretakers. 

Children can go to school

Adults can go to work and help provide for their families

Elderly are able to take part in community life or just sit outside in the sun
Aside from these obvious benefits, there are also physical ones to getting out of beds, up from sofas and into the fresh air with their newfound mobility:
Yes!, I want to provide the gift of mobility

Relief from pressure sores 

Reduction in progression of deformities 
Improved respiration, digestion and general fitness 
Anyone hesitating about the merits of this program needs to see the story of Mr. Jeff Erlanger who visits Mr. Rogers on his show in the mid-1970s. The Youtube clip is no more than two minutes. Although Erlanger has a motorized wheelchair, the engagement with Mr. Rogers and the dignity Erlanger's mobility (with the help of his wheelchair) affords him is priceless. It is this kind of engagement that motivates our members to help those who have mobility issues – one person at a time.
Learn more
In 2022, the Russian military invaded Ukraine, and, as with most wars, civilians were either killed or injured. One of the many physical injuries sustained from the war was the loss of mobility for thousands of Ukrainians. Brother Edward Shawchuk, the Financial Officer of the Ukrainian Catholic Eparchy of Toronto & Eastern Canada at the time, appealed to then-State Deputy Marcel Lemmen for help. Lemmen launched an appeal to the members of the Order in Ontario to temporarily switch its wheelchair fundraising efforts from Central America to Ukraine.
In 2005, the Ontario Provincial Legislature adopted the Accessibility for Ontarians with Disabilities Act (AODA). Its stated purpose was to reduce and remove barriers for people with disabilities.
In 2008, then State Deputy Nat Gallo, convinced the other members of the State Board that the AODA was a defensive measure and that the Knights of Columbus in Ontario could adopt a more proactive approach. Gallo had seen the Supreme Council of the Knights of Columbus adopt a wheelchair fundraising program in 2003 to help civilians injured during the war in Afghanistan. The Supreme Council sponsored the delivery of 2,000 wheelchairs there. Gallo proposed that the Knights partner with the Canadian Wheelchair Foundation, headed by Executive Director Christiana Flessner.
The Order would raise funds to sponsor wheelchairs through the Canadian Wheelchair Foundation and deliver them to those in need. The main focus of this effort would be Central America.
Whether Councils are presenting wheelchairs to local veterans and neighbors in need or donating funds to benefit those abroad, mobility brings independence and dignity. Obtained at discounted prices, our wheelchairs change the lives of their recipients. Working with our partner, The Canadian Wheelchair Foundation, is a perfect opportunity to put our faith into action.
The Gift of mobility courtesy of the Knights of Columbus in Ontario
"When disaster strikes, our shared humanity as Catholics compels us to help. We provide hope and inspiration to those who have lost part or all of their mobility. With your support we can continue bringing this hope to those in need."
State Deputy, Bruce Poulin.
Put your Faith into action!
Canadian Wheelchair Foundation Donor Form