Divine Mercy day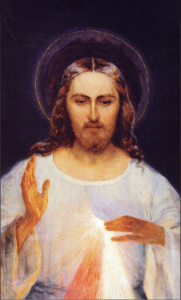 Ontario State Office Knights of Columbus
We are sending out an invitation to join a worldwide prayer initiative, praying with the Divine Mercy Chaplet
On behalf of the Team of the newly formed Prayer Initiative, "Australia and Oceania prays with the Divine Mercy Chaplet" based at the Shrine of Divine Mercy in Keysborough, Melbourne. The faithful are invited to join in a global prayer of the Divine Mercy Chaplet. This will take place twice a year at 3pm (in your own time zone) on the 18th of May (birthday of St John Paul II) and on the 13th of September (anniversary of when our Merciful Jesus gave St Faustina the Chaplet to the Divine Mercy). On these days, we will all pray for the intentions selected by the priests and bishops.
Dear Apostles of Mercy around the world, our prayer intentions on the 13th of September 2019 can be found here.
Our initiative, is a response to the request of Christ himself, that the message of Divine Mercy will reach all ends of the earth. We have been asked to spread this message, so that as many faithful as possible will join in this global prayer to heaven. Reflecting on the world today, it a place that needs a great many prayers.
Please submit your application by completing the application form, and mark your place of prayer on the google map or inform us via "Contact"
In our first campaign in May, participated 94 parishes from 24 countries World wide.
Letters about this initiative are here:
We invite you to join with us in prayer.
God Bless.
Richard Hodowany – Deputy Co-ordinator
Melbourne 21/08/2019
Les Chevaliers de Colomb du Bureau d'État de l'Ontario
Nous envoyons une invitation à vous joindre à une initiative mondiale de prière, en priant le Chapelet de la Divine Miséricorde au nom de l'équipe de la nouvelle Initiative de prière, « L'Australie et l'Océanie.
La prière du chapelet de la Divine miséricorde " basé au Sanctuaire de la Divine Miséricorde à Keysborough, Melbourne, Australie. Les fidèles sont invités à se joindre à une prière mondiale du chapelet de la Divine Miséricorde. Cela aura lieu deux fois par an à 15 heures (dans votre propre fuseau horaire) le 18 mai (anniversaire de saint Jean-Paul II) et le 13 septembre (l'anniversaire de notre Jésus Miséricordieux qui a donné à sainte Faustine la Chapelet à la Divine Miséricorde). Ces jours-là, nous prierons tous pour les intentions choisies par les prêtres et les évêques.
Chers Apôtres de la Miséricorde dans le monde entier, nos intentions de prière du 13 septembre 2019 se trouvent ici
Notre initiative, est une réponse à la demande du Christ lui-même, que le message de la Divine Miséricorde atteindra toutes les extrémités de la terre. On nous a demandé de diffuser ce message, afin que le plus grand nombre possible de fidèles se joignent à cette prière mondiale au ciel. Réflexion sur le monde d'aujourd'hui, c'est un endroit qui a besoin d'un grand nombre de prières.
Veuillez soumettre votre demande en remplissant le formulaire de demande et marquez votre lieu de prière sur la carte google ou informez-nous via "Contact"
Dans notre première campagne en mai, a participé 94 paroisses de 24 pays du monde entier.
Les lettres au sujet de cette initiative sont ici
Nous vous invitons à vous joindre à nous dans la prière.
Que Dieu vous bénisse.
Richard Hodowany – Coordonnateur adjoint
Melbourne 21/08/2019