2020 Lottery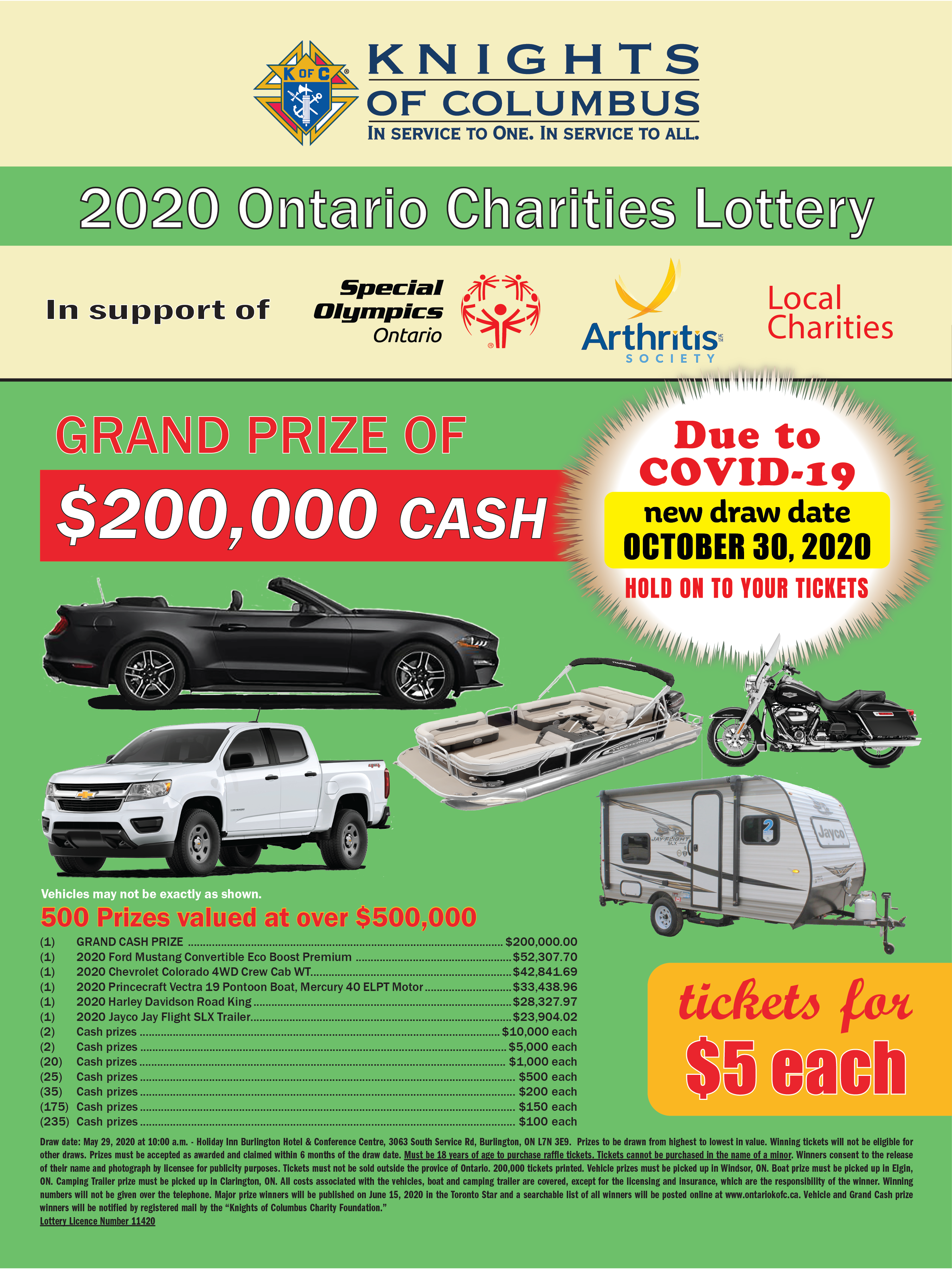 About our Lottery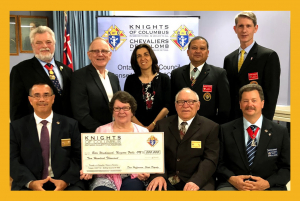 In its 49th year, the Ontario Knights of Columbus Charity Raffle is now known as "Charities Lottery". We are pleased to announce that this year's lottery will support Special Olympics Ontario, Arthritis Society and various other Charities. Click here to see list.
The Knights of Columbus who have been there from the beginning will continue to help promote a healthy and active lifestyle through sport to improve the wellbeing of individuals with disabilities. We will also continue to support the Arthritis Society, to help fund research to cure this horrible and debilitating condition.
Knights of Columbus local councils participating in the sale of tickets also receive a portion of the funds to help support a local initiative or charity in their area. To encourage maximum participation of our Councils the Knights of Columbus have instituted a number of incentives dedicated to the growth of this worthwhile program. In addition, let us remind you that it's a wonderful way to show support for programs that directly impact our local community. Since the lottery program began, the Knights of Columbus Ontario Charities Foundation has donated over 10 million dollars to local non-profit organizations across Ontario.
This year there are 500 prizes with a grand prize of $ 200,000 cash!!! Other prizes include a 2020 Ford Mustang Convertible, a 2020 Chevrolet Colorado Crew Cab 4WD, a 2020 Princecraft Vectra 19' Pontoon Boat, a 2020 Harley Davidson Road King Motorcycle, A 2020 Jayco Flight SLX trailer and a number of cash prizes.
Tickets are only $5 each and the draw date has been changed from May 29, 2020 to October 30, 2020 and it will take place at the Holiday Inn Hotel and Conference Centre, Burlington, ON. The Charities Lottery is provincially licensed under the Ontario Lottery & Gaming Commission and is administered by the Ontario State Office under the authority of the Foundation's Board of Directors.
Tickets will be available once the COVID19 Pandemic has passed and that it has been declared safe by the Province of Ontario that we can resume sales. At that time, members and participant will be advised to proceed and new venues established for the sale of the lottery tickets.
Major prize winners will be published on November 14, 2020 in the Toronto Star, and a searchable list of winners will be posted online at www.ontariokofc.ca
2020 Charities Lottery Authorized Donation Recipients
Non-Profit or Charitable:
Arthritis Society
Big Brothers
Birthright
Scouts Canada
Children Wishes
Children's Aid
Churches
Crime Stoppers
Food Banks
Foster Parents
Girl Guides of Canada
Homes for the Aged
Hospices
Hospital Foundations
Meals on Wheels
Relief Shelters
Rosalie Hall
Salvation Army
Special Olympics Ontario
Catholic Christian Outreach
Catholic Missions Canada
Bursaries / Scholarships:
High School
University
Community / Church:
Church Renovation
Family Centres
Inner City Homes
Needy Families
Playground Equipment
Seniors Groups
Education / Research:
Birthright Pregnancy Service
Marguerite Bourgeoys Family Planning
Serena Ontario
Natural Family Planning (NFP)
Pontifical Institute of Mediaeval Studies
Right to Life Association
Youth Programmes:
4H Clubs
Basketball
Handicapped Kids
Science Fairs
Columbian Squires
V.I.P. Programs
Youth Camps
Youth Groups
Vocations:
Help Centre
Religious Orders
Seminarians
Ontario Conference of Catholic Bishops