Free Throw / Soccer / Hockey Challenge
Free Throw Championship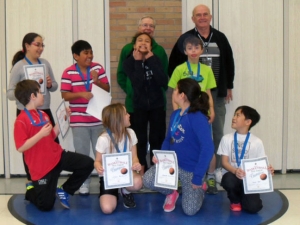 The Free Throw Championship is a great way to generate interest and introduce the Order to your local community. It provides youth with a rewarding activity, as winners are provided with a chance to compete at the council, district, regional and international level.This Championship is open to all boys and girls in your community from ages 9 to 14 years. The Proof of age as of January 1st is required. The competition is set up to start at the council level, with all participants competing within their own gender and age group.To sponsor a competition, your council requires the Free Throw Championship Kit (#FT-KIT); which can be found here
This kit provides you with the Free Throw Championship Guide (#1928), the posters #1596 & #1686, score sheets #1598, participation certificates (#1597) and Championship Certificates (#1809).
Each Participant is required to fill a Free Throw Championship Entry form/score sheet #1598.
The Free Throw Championship guide will provide you with rules, regulations, tips and information on the competition. The posters and sample press releases can be used to promote the event in schools, churches, libraries and Columbian Squires' circles.
Councils are required to complete their Free Throw event by January 15th and fill the Free Throw Championship Participation Report Form (#FT-1) by January 31st. Districts are required to complete their Free Throw event by February 15th and Regional competitions will be completed by February 29th.
All Regional winners' forms should be sent to the State youth Director by February 29th.
Basketball Free Throw Information Package / Championnat de lancer libre de basket-ball trousse de renseignements
Soccer Challenge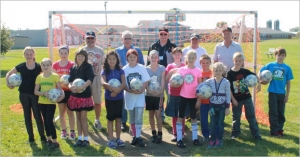 The Soccer Challenge is a great way to generate interest and introduce the Order to your local community. It provides youth with a rewarding activity, as winners are provided with a chance to compete at the council, district, regional and State level.
The competition is designed for participants to demonstrate the most basic soccer skills – the penalty kick. Each participant will be allowed 15 shots at the goal from the penalty line (12 yards from the goal).
This Challenge is open to all boys and girls in your community from ages 9 to 14 years. The Proof of age as of September 1st is required. The competition is set up to start at the council level, with all participants competing within their own gender and age group.
The Ontario State 2018 Soccer Challenge Information Package is available at this link
To sponsor a challenge, your council requires the Soccer Challenge Kit (#SC-KIT); which can be found here. This kit provides you with the Soccer Challenge Program Guide (#4576), the posters #4571 & #4572, participation certificates (#4573) and Championship Certificates
(#4575). Each Participant is required to fill a Soccer Challenge Entry form/score sheet #4578
Le Soccer Challenge est un excellent moyen de susciter l'intérêt et de présenter l'Ordre à votre communauté locale. Il offre aux jeunes une activité enrichissante, car les lauréats ont la possibilité de concourir au niveau du conseil, du district, de la région et de l'État.
La compétition est conçue pour les participants à démontrer les compétences de base du football – le coup de pied de pénalité. Chaque participant aura droit à 15 tirs au but à partir de la ligne de réparation (à 12 verges du but).
Ce défi est ouvert à tous les garçons et filles de votre communauté âgés de 9 à 14 ans. La preuve d'âge au 1er septembre est requise. La compétition est mise en place pour commencer au niveau du conseil, avec tous les participants en compétition au sein de leur propre groupe d'âge et de sexe.
Le Trousse d'information sur le Défi de soccer de l'Ontario 2018 est disponible à ce lien
Pour parrainer un défi, votre conseil a besoin du Soccer Challenge Kit (# SC-KIT); qui peut être trouvé ici. Cette trousse vous fournit le Guide du programme Soccer Challenge (# 4576), les affiches # 4571 et # 4572, les certificats de participation (# 4573) et les certificats de championnat (# 4575). Chaque Participant est tenu de remplir un formulaire d'inscription au Challenge Soccer / une feuille de score # 4578.
Hockey Challenge
Hockey Challenge is a new program developed at the request of various councils and Districts.  Like Soccer it is a one-person skills test with points attributed based on scores achieved.
As Ontario State is sponsoring all District, Regional and Provincial Medals, early registration of Districts and Regions will ensure proper quantities are ordered.  District and regions must advise their Ontario State Chairman by January 15, 2019 of their medal requirements.
Each councils Grand Knight should ensure their District Deputy is aware of their participation. This will allow the District Deputy the opportunity to confirm the number of medals needed during the District Deputy organizational meeting taking place at the end of November. Please ensure that you canvas your members for volunteers to host the Regional Competition as required.
Boys and Girls compete in the same age group.  As this comprises the initial start-up of a new program the age groups have been limited to ages 12-17, with the caveat that younger children can participate at the 12-year-old level. Your participation and comments will help improve the program for future years.
Registration and other information available in the packages linked below. Questions can be formulated to the State Chairman Pete Scott at onstatehockey.kofc@gmail.com
La Compétition Hockey est un nouveau programme développé à la demande de divers conseils et districts. Semblable au soccer, il s'agit d'un test de compétences d'une personne avec des points attribués en fonction des scores obtenus. Étant donné que l'État de l'Ontario parraine toutes les médailles de district, régionales et provinciales, l'enregistrement précoce des districts et des régions garantira la commande des quantités appropriées. Les districts et régions doivent placer la commande de leurs médailles avec le directeur par Janvier 15, 2019.
Le Grand Chevalier de chaque conseil participant doit s'assurer d'avertir leur député de district. Celui-ci pourra donc confirmer le nombre de médailles qu'on aura besoin durant la réunion organisationnelle des Députés de Districts à la fin Novembre.  S.V.P. approcher les membres de vos conseils pour trouver des volontaires pour la compétition régionale.
Les garçons et les filles participent au même groupe d'âge. A son début comme programme nous avons limité les groupes d'âge pour tous les participants de 12 à 17ans. Toute enfant plus jeune qui désire participer peux le faire en participant aux groupes de 12ans. Votre participation et vos commentaires aideront à améliorer le programme pour les années à venir.
Inscription et autres informations disponibles dans les forfaits liés ci-dessous. Questions peuvent être envoyé au responsable de l'Etat, Pete Scott, à onstatehockey.kofc@gmail.com
Hockey Challenge Package: English (français)