Our Lady Help of Persecuted Christians Program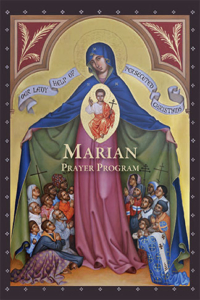 Our Lady Help of Persecuted Christians is the 18th prayer program sponsored by the Knights of Columbus, designed to strengthen Catholic values and our prayer lives.
This program features an image of Our Lady Help of Persecuted Christians blessed by Pope Francis (with dimensions of 40" X 27" (102cmX69cm). The Image is protected by a carrying case for traveling and is accompanied by a kit containing Prayer Cards and Prayer Books.
The Marion Prayer Program is an excellent way to involve new and younger members in Council activities. Members can assist distributing cards and prayer books, collecting the prayer books at the end of each Prayer Program, as well as reading and singing during the Prayer Program. Consider including your 4th Degree Assemblies in your Prayer Program with an Honour Guard which will add Visibility and Distinction to this Sacred and Solemn Occasion.
Here are some suggestions to help your council in planning your council's participation in Our Lady Help of Persecuted Christians Program.
Once you find out when your council is scheduled to receive the image, consult your chaplain and/or pastor about the service and set a location for the prayer service to be held. Here is the schedule for Our Lady Help of Persecuted Christians Program listed by district.
Make sure there are enough Prayer Cards for Our Lady Help of Persecuted Christians Programs for the next Council. Before Prayer Card supplies run low, please contact the State Office (stateoffice@ontariokofc.ca; 800-759-0959) or Our Lady Help of Persecuted Christians Program Chairman Gino Di Pede (dginobydipede@gmail.com; 647 339-8396) and allow 1-2 weeks for delivery.
Prayer Books are not meant to be keepsakes and are to be collected after each Our Lady Help of Persecuted Christians program. Only Prayer Cards (not Prayer Books) are meant to be given out as keepsakes for participants.
The District Deputy, in his district, will organize with the Grand Knights a schedule so each council can host a Prayer Service. The program is designed that each council have Our Lady Help of Persecuted Christians image for a week. This allows parishes to be able to display the Image at week-end masses if pastors and chaplains desire (remember we need permission from our clergy!!!).
In addition to a Prayer Service during weekday or weekend Masses (or after mass), consider bringing the Image of Our Lady Help of Persecuted Christians to Elementary and High Schools so that children may receive Our Lady Help of Persecuted Christians in a new way. Schools, Nursing Homes, festivals and parishes are excellent examples of ways Councils and Districts can help strengthen our families with this program.
Grand Knights and Council Members must work with their District Deputies to transport Images, Prayer Books and Cards from one Council to the next…including when these need to move on to the next district.
The Image and booklets must be PROPERLY wrapped or boxed and PROTECTED before moving to avoid damage of any kind.
Identify council members and clergy to fulfill the various roles called for in the prayer program (Get new and young members involved!).
Representatives of your council should attend the service of the council from whom you will receive the image and bring the image and supplies to your council.
Instruct the congregation to say the prayers at a moderate pace to ensure the service is truly reverent.
If possible, the choir leader should review the hymns with the congregation before the service.
Supreme advises NO money should be collected nor should any social activity be held in conjunction with the service.
The Grand Knight (or delegate) should record the council's program in the Log Book that accompanies the image before sending it on to the next council. District Deputies will be asked to pass along updates of the Log Book to Our Lady Help of Persecuted Christians Chairman (Sean Dunlop) so that updates can be shared with Supreme each month.
When completing the Log Book, also make a count of students who were able to see Our Lady Help of Persecuted Christians Image in the schools.
| Route | District | Location | Start Date | End Date | District Deputy | Phone No. | Email |
| --- | --- | --- | --- | --- | --- | --- | --- |
| 1 | 66 | Navan | 04-Nov-18 | 30-Dec-18 | Michael Goulet | 613-824-3740 | m.goulet@rogers.com |
| 1 | 54(F) | Orleans | 31-Dec-18 | 03-Feb-19 | Andre' Cayoutte | 613-837-2637 | a.cayoutte@rogers.com |
| 1 | 42(F) | Cumberland | 04-Feb-19 | 10-Mar-19 | Marcel Lachance | 613-833-1819 | marcelnlachane@gmail.com |
| 1 | 17(F) | Bouget(Rockland) | 11-Mar-19 | 14-Apr-19 | Serge Marcil | 613-487-2291 | sel77@bell.net |
| 1 | 58(F) | Casselman | 15-Apr-19 | 19-May-19 | Gerald Beriault | 613-764-5356 | jerryb84@hotmail.com |
| 1 | 75(F) | St. Andrews W. | 20-May-19 | 30-Jun-19 | Raymond Beauregard | 613-933-0971 | raymondbeauregard@hotmail.com |
| 1 | 81(F) | Cornwall | 01-Jul-19 | 11-Aug-19 | Renald Bombardier | 613-936-1496 | renaldbombardier@hotmail.com |
| 1 | 32 | Cornwall | 12-Aug-19 | 15-Sep-19 | Keith LaFave | 613-362-0189 | klafave1@cogeco.ca |
| 2 | 84 | Simcoe | 04-Nov-18 | 25-Nov-18 | Richard Hobbins | 519-428-5303 | rickandhelenhobbins@gmail.com |
| 2 | 83 | Stoney Creek | 26-Nov-18 | 30-Dec-18 | Dan Lohin | 905-662-3629 | danlohin@hotmail.com |
| 2 | 100 | Stoney Creek | 31-Dec-18 | 27-Jan-19 | Gabriel Riverso | 905-662-1124 | griverso@rmxemail.com |
| 2 | 8 | Stoney Creek | 28-Jan-18 | 10-Mar-19 | Alex Biro | 905-664-6915 | abiro3@cogeco.ca |
| 2 | 6 | Beamsville | 11-Mar-19 | 07-Apr-19 | Mario Durand | 289-566-8495 | supmariod@gmail.com |
| 2 | 26 | Port Colborne | 08-Apr-19 | 12-May-19 | George Badawey | 905-835-1544 | georgebadawey@gmail.com |
| 2 | 113 | St. Catherines | 13-May-19 | 16-Jun-19 | Ron Green | 905-935-4160 | captron10bty@sympatico.ca |
| 2 | 64 | Niagara Falls | 17-Jun-19 | 21-Jul-19 | Martin Marko | 905-401-5646 | ftw@talkwireless.ca |
| 3 | 110 | Richmond Hill | 04-Nov-18 | 30-Dec-18 | Yousif Bahoshy | 905-237-7334 | jbahoshy@gmail.com |
| 3 | 108 | Markham | 31-Dec-18 | 03-Feb-19 | Joe Chan | 647-227-4237 | chancccjoe@yahoo.ca |
| 3 | 90 | Pickering | 04-Feb-19 | 03-Mar-19 | Agnel C Soans | 905-839-4445 | soansab@rogers.com |
| 3 | 36 | Oshawa | 04-Mar-19 | 28-Apr-19 | James Kay | 905-579-7908 | jkayone_2@sympatico.ca |
| 3 | 48 | Bowmanville | 29-Apr-19 | 02-Jun-19 | Alphonse Ainsworth | 905-419-1509 | a_ainsworth14@yahoo.ca |
| 3 | 3 | Trenton | 03-Jun-19 | 14-Jul-19 | Paul McComb | 613-344-2202 | paulauction2@yahoo.ca |
| 3 | 73 | Belleville | 15-Jul-19 | 25-Aug-19 | Brian Moloney | 613-966-4999 | dddwgirardmoloney@gmail.com |
| 3 | 93 | Verona | 26-Aug-19 | 06-Oct-19 | Wayne Fink | 613-483-8653 | kofc4338342@gmail.com |
| 3 | 20 | Inverary | 07-Oct-19 | 10-Nov-19 | Pete Scott | 613-545-4052 | skpetescott_857@gmail.com |
| 3 | 57 | Johnstown | 11-Nov-19 | 31-Dec-19 | Stephen Dillabough | 613-925-3103 | sdillabough1@cogeco.ca |
| 4 | 104 | St. Thomas | 04-Nov-18 | 30-Dec-18 | Philip East | 519-631-8148 | peast@rogers.com |
| 4 | 49 | London | 31-Dec-18 | 27-Jan-19 | Don Highley | 519-657-4326 | djhighley@rogers.com |
| 4 | 9 | London | 28-Jan-19 | 24-Mar-19 | Kevin Belanger | 519-868-2472 | kevangbelanger@rogers.com |
| 4 | 22 | Tillsonburg | 25-Mar-19 | 21-Apr-19 | Doug Shwaluk | 519-688-3458 | shwde@bell.net |
| 4 | 35 | Petersburg | 22-Apr-19 | 19-May-19 | Ted Jasica | 519-572-9965 | Tjasica7@gmail.com |
| 4 | 116 | Fergus | 20-May-19 | 16-Jun-19 | Kevin Smith | 519-843-4015 | smoyd@sympatico.ca |
| 4 | 118 | Kitchener | 22-Jul-19 | 18-Aug-19 | Timothy Runstedler | 226-988-2620 | tma_runstedler@hotmail.com |
| 4 | 7 | Cambridge | 19-Aug-19 | 22-Sep-19 | Dan Schmalz | 519-650-5523 | schmenge@rogers.com |
| 4 | 105 | Georgetown | 23-Sep-19 | 27-Oct-19 | Michael Simpson | 905-873-9962 | michael.simpson@cogeco.ca |
| 4 | 53 | Mississauga | 28-Oct-19 | 8-Dec-19 | Gary MacDonald | 905-271-7797 | garymac@look.ca |
| 4 | 27 | Mississauga | 9-Dec-19 | 2-Feb-20 | Walter Martyniw | 905-629-2338 | wmartyniw@beckman.com |
| 5 | 70 | Manilla | 04-Nov-18 | 30-Dec-18 | David Robertson | 705-357-1500 | fornzx321@hotmail.com |
| 5 | 82 | Lindsay | 31-Dec-18 | 03-Feb-19 | Richard Connolly | 705-878-5389 | richard.connolly@bell.net |
| 5 | 4 | Peterborough | 04-Feb-19 | 17-Mar-19 | Stephen Meinhardt | 705-741-0568 | smeinhardt@pvnccdsb.on.ca |
| 5 | 29 | Peterborough | 18-Mar-19 | 28-Apr-19 | Sean Dunlop | 705-868-5699 | sean@dunlopfinancialservice.com |
| 5 | 30 | Smith Falls | 29-Apr-19 | 02-Jun-19 | Daniel Dean | 613-250-2588 | oneildean@hotmail.com |
| 5 | 79 | Kanata | 03-Jun-19 | 07-Jul-19 | Barry Nicholls | 613-592-0345 | barry.nicholls@bell.net |
| 5 | 98 | Ottawa | 08-Jul-19 | 01-Sep-19 | John Schembri | 613-226-6520 | schembri@sympatico.ca |
| 5 | 1 | Ottawa | 02-Sep-19 | 06-Oct-19 | Harold Marcotte | 613-744-7764 | harold@chezmarcotte.ca |
| 5 | 44 | Arnprior | 07-Oct-19 | 17-Nov-19 | Robert Coyne | 613-229-3288 | coynemechanical@rogers.com |
| 5 | 2 | Deep River | 18-Nov-19 | 12-Jan-20 | Ken McDonald | 613-584-3242 | nde222@bell.net |
| 6 | 55 | Port Elgin | 04-Nov-18 | 25-Nov-18 | Wayne Caskanette | 519-832-6585 | wcaskanette@outlook.com |
| 6 | 72 | Owen Sound | 26-Nov-18 | 06-Jan-19 | OPEN | | |
| 6 | 28 | Cargil | 07-Jan-19 | 10-Feb-19 | Steve Cuneo | 519-881-6096 | steve@cuneointeriors.com |
| 6 | 19 | Tiny (Midland) | 11-Feb-19 | 10-Mar-19 | Garnet Smith | 705-526-0017 | ggsmith321@gmail.com |
| 6 | 86 | Barrie | 11-Mar-19 | 28-Apr-19 | Thomas Hargreaves | 705-790-9291 | thomhargreaves@yahoo.ca |
| 6 | 50 | Caledon East | 29-Apr-19 | 09-Jun-19 | Luigi (Gino) Grieco | 905-860-0058 | ginoandrosanna@rogers.com |
| 6 | 33 | Bradford | 10-Jun-19 | 21-Jul-19 | Robert Ben | 905-778-1643 | robert.ben@investorsgroup.com |
| 6 | 99 | Brampton | 22-Jul-19 | 01-Sep-19 | Timothy Gant | 519-943-3737 | tim.gant@hydroone.com |
| 7 | 51 | Ridgetown | 04-Nov-18 | 30-Dec-18 | Rene Martens | 519-674-3534 | renecmartens@live.ca |
| 7 | 16 | Chatham | 31-Dec-18 | 24-Feb-19 | Michael Murphy | 519-354-0429 | murphymf6@gmail.com |
| 7 | 21 | Kingsville | 25-Feb-19 | 21-Apr-19 | Daniel Orawski | 519-733-4183 | kofcdan@gmail.com |
| 7 | 88 | McGregor | 22-Apr-19 | 02-Jun-19 | Kevin Klink | 519-919-9941 | krnl1500@outlook.com |
| 7 | 23 | Belle River | 03-Jun-19 | 14-Jul-19 | Dave Monk | 519-728-0306 | monkdd23@gmail.com |
| 7 | 76 | Belle River | 15-Jul-19 | 18-Aug-19 | Alan Sims | 519-735-0017 | alan639barb@aol.com |
| 7 | 39 | LaSalle | 19-Aug-19 | 29-Sep-19 | Jesmond Tabone | 519-992-2014 | jtabone@outlook.com |
| 7 | 10 | Windsor | 30-Sep-19 | 10-Nov-19 | OPEN | | |
| 7 | 40 | Sombra | 11-Nov-19 | 29-Dec-19 | Michael Hendryks | 519-892-3387 | mshranch@aol.com |
| 7 | 61 | Sarnia | 30-Dec-19 | 02-Feb-20 | John Ramsey | 519-383-7808 | jepr@cogeco.ca |
| 7 | 68 | Strathroy | 03-Feb-20 | 29-Mar-20 | Stephen Cochrane | 519-245-3123 | stephencochrane@rogers.com |
| 8 | 43 | Brampton | 04-Nov-18 | 30-Dec-18 | Jerry Monaca | 416-450-5807 | jerrygmonaco@gmail.com |
| 8 | 24 | Brampton | 31-Dec-18 | 27-Jan-19 | David Bain | 905-451-8238 | djbain@rogers.com |
| 8 | 77 | Thornhill | 28-Jan-19 | 24-Mar-19 | Noel Perovic | 416-409-8948 | nado@rogers.com |
| 8 | 106 | Etobicoke | 25-Mar-19 | 19-May-19 | Patrick Briggs | 416-248-9287 | patrickbriggs@bell.net |
| 8 | 65 | Toronto | 20-May-19 | 02-Jul-19 | Kingsley Leon | 416-447-2770 | kingsley.leon@outlook.com |
| 8 | 5 | Toronto | 03-Jul-19 | 11-Aug-19 | Henry Miller | 416-932-8420 | hmiller@look.ca |
| 8 | 108 | Markham | 12-Aug-19 | 22-Sep-19 | Joe Chan | 647-227-4237 | chancccjoe@yahoo.ca |
| 8 | 107 | Scarborough | 23-Sep-19 | 03-Nov-19 | Joseph Mathurin | 416-755-8729 | jmathurin5049@rogers.com |
| 8 | 95 | Scarborough | 04-Nov-19 | 30-Dec-19 | Tony Tobias | 416-431-2524 | atobias@sympatico.ca |
| 8 | 87 | Scarborough | 31-Dec-19 | 16-Feb-20 | Gino DiPede | 416-499-8396 | gdipede@rogers.com |
| 8 | 111 | Pickering | 17-Feb-20 | 15-Mar-20 | Alex Saroca | 905-839-5767 | lexlorn76@yahoo.ca |
| 9 | 56 | Bracebridge | 04-Nov-18 | 13-Jan-19 | Ted Majkot | 705-644-1071 | ted.majkot@gmail.com |
| 9 | 96 | Woodbridge | 14-Jan-19 | 24-Feb-19 | Lidio Soldera | 905-851-7254 | lidiosoldera@gmail.com |
| 9 | 91 | Mississauga | 25-Feb-19 | 31-Mar-19 | Arturo Policarpio | 905-270-2046 | artpolsr@gmail.com |
| 9 | 114 | Brampton | 01-Apr-19 | 14-Apr-19 | David Peters | 416-568-1978 | davidpeters123@rogers.com |
| 9 | 103 | Brampton | 15-Apr-19 | 26-May-19 | Gordon Newman | 905-790-0093 | gordon@newmanlearning.com |
| 9 | 67 | Oakville | 27-May-19 | 16-Jun-19 | Wayne Kendall | 905-334-8808 | DD67Oakville@gmail.com |
| 9 | 62 | Burlington | 17-Jun-19 | 21-Jul-19 | Vic Lefebvre | 905-335-3056 | lefebvrevi@outlook.com |
| 9 | 109 | Hamilton | 22-Jul-19 | 25-Aug-19 | Herbert Dixon | 905-545-3505 | herbdixon49@yahoo.ca |
| 9 | 60 | Hamilton | 22-Jul-19 | 08-Sep-19 | Robert Ricci | 905-575-2872 | riccir@hhsc.ca |
| 10 | 46(F) | Mattice | 04-Nov-18 | 30-Dec-18 | Yvon Nolet | 705-373-2823 | yvon.nolet@hotmail.com |
| 10 | 12(F) | Smooth Rock Falls | 31-Dec-18 | 24-Feb-19 | Andre Nolet | 705-338-2132 | giant@ntl.sympatico.ca |
| 10 | 52 | Timmins | 25-Feb-19 | 31-Mar-19 | Kevin Columbus | 705-267-5569 | kevincolumbus20@gmail.com |
| 10 | 18(F) | Timmins | 01-Apr-19 | 05-May-19 | Marc Daoust | 705-365-8571 | marc_daoust@hotmail.com |
| 10 | 11(F) | Kirkland Lake | 06-May-19 | 16-Jun-19 | OPEN | | |
| 10 | 71 | New Liskeard | 17-Jun-19 | 28-Jul-19 | Michel Watchorn | 705-647-7580 | watchorn.linda@outlook.com |
| 10 | 41(F) | Garson | 29-Jul-19 | 08-Sep-19 | Gaetan Labelle | 705-693-3202 | gaetan@fibreop.ca |
| 10 | 74(F) | Val Caron | 09-Sep-19 | 03-Nov-19 | Joffre Patry | 705-897-6425 | joffrepatry@hotmail.com |
| 10 | 59 | Rutherglen | 04-Nov-19 | 08-Dec-19 | Pierre Montreuil | 705-491-5302 | pmontreuil78@gmail.com |
| 11 | 25 | Warren | 04-Nov-18 | 30-Dec-18 | Dennis Mailoux | 705-688-8928 | dennisfm@hotmail.com |
| 11 | 80 | Levack | 31-Dec-18 | 10-Feb-19 | OPEN | | |
| 11 | 13 | Sudbury | 11-Feb-19 | 07-Apr-19 | Denis Tomini | 705-535-3414 | countd@hotmail.ca |
| 11 | 34 | Sudbury (Elliot Lake) | 08-Apr-19 | 05-May-19 | Louis Murphy | 705-690-0568 | louismurphy.kofc@gmail.com |
| 11 | 47 | Sturgeon Falls | 06-May-19 | 30-Jun-19 | Jacques Fournier | 705-358-1617 | jjfournier4848@gmail.com |
| 11 | 38 | Sault Ste Marie | 01-Jul-19 | 18-Aug-19 | Bob Turco | 705-759-4852 | gmjayco@hotmail.com |
| 11 | 45 | Manitouage | 19-Aug-19 | 22-Sep-19 | Kevin Nelson | 807-826-3281 | nelson.kevin13@gmail.com |
| 11 | 112 | Schrieber | 23-Sep-19 | 20-Oct-19 | Mario Santino Filane Figliomeni | 807-823-1080 | marbar19@hotmail.com |
| 11 | 14 | Thunder Bay | 21-Oct-19 | 29-Dec-19 | Mike Meady | 807-577-2412 | mike_meady@yahoo.ca |
| 11 | 15 | Sioux Lookout | 30-Dec-19 | 23-Feb-20 | Robert Durante | 807-737-3456 | danillo1952@hotmail.ca |
| 11 | 37 | Fort Frances | 24-Feb-20 | 05-Apr-20 | Nathan Cousineau | 807-276-7142 | cousineau017@gmail.com |