Fr. McGivney Guild
On Aug 6, 2017 we will institute a Novena with this prayer card to finish on Aug 14 (the date of his death) with a Mass for the advancement of his cause. This Novena could be said publicly (as it was after the 12:15 Mass), or privately if unable to be at Mass.
God, our Father, protector of the poor and defender of the widow and orphan, you called your priest, Father Michael J. McGivney, to be an apostle of Christian family life and to lead the young to the generous service of their neighbor. Through the example of his life and virtue may we follow your Son, Jesus Christ, more closely, fulfilling his commandment of charity and building up his Body which is the Church.

Let the inspiration of your servant prompt us to greater confidence in your love so that we may continue his work of caring for the needy and the outcast. We humbly ask that you glorify your venerable servant Father Michael J. McGivney on earth according to the design of your holy will. Through his intercession, grant the favor I now present (here make your request). Through Christ our Lord. Amen.

(Our Father, Hail Mary, Glory be.)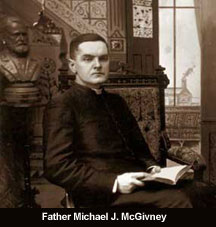 The guilds of old were established as associations of artisans or merchants, bonded by common practices and objectives. They were an effective method of ensuring that only the highest standards of their chosen crafts were acceptable. The Knights of Columbus established, nearly 120 years ago, a guild dedicated to educating Brother Knights in respect to our founder's exemplary life, his good works and his spirituality. The director of the Guild, Fr. Gabriel B. O'Donnell, (who is also the postulator of Fr. McGivney's cause for canonization) describes the Guild's goal as "… to spread the good word about Fr. McGivney's holiness of life, to encourage devotion to his memory and to seek his intervention before the throne of God".
In the few years since its establishment, the Fr. McGivney Guild has grown so that it now boasts more than 83,000 members. The Guild promotes the cause for canonization of our founder, Venerable Fr. Michael J. McGivney, it distributes information about him and it oversees the distribution of relics. Its purpose is to inspire greater personal holiness and cooperation with God's grace by disseminating information about this outstanding young priest. Knights of Columbus are not automatically members of the Guild. They must make known their desire to join the Guild. Membership is free. It is open to individuals and households. All it takes is to fill in a form or just register online at: www.fathermcgivney.org. Following your registration with the Guild, you will receive a monthly newsletter and this will keep you "up to date" on developments toward Fr. McGivney's canonization. You will be asked to pray for the canonization cause and to report any special favours received which might be attributed to the intercession of our founder. We are hoping to get as many members if not all of our brother knights to join the guild in the province of Ontario.