FREE Online Membership Special Limited Time Offer
FREE Online Membership for the 1st year
We are thrilled to learn that our beloved founder Father Michael McGivney will be beatified and officially declared Blessed later this year.
In recognition of this historic event, we are pleased to announce that the Supreme Council will be making a special membership offer in honor of our founder.
A SPECIAL LIMITED TIME MEMBERSHIP PROMOTIONAL OFFER commencing Wednesday, July 22 and continuing through 11:59 p.m. ET on August 5th, 2020, new members are being offered FREE ONLINE MEMBERSHIP for their first year.
The Supreme Council will pay the first-year dues for every man who joins online between now and August 5, 2020. Prospects simply need to visit kofc.org/joinus and enter the code MCGIVNEY2020 to take advantage of this special offer.

Father Michael McGivney was faced with a pandemic in the 1880s, as we are today. And in the face of that pandemic, he persevered in his efforts to evangelize those in his community, to form his parishioners in their Catholic faith, and to grow the Knights of Columbus. As his spiritual heirs, we can do nothing less.
Our pastors need the Knights of Columbus. Our fellow parishioners need the Knights of Columbus. Those impacted by COVID-19 need the Knights of Columbus. Just as holy founder surely would, let us resolve to Leave No Neighbor Behind, and to offer every Catholic man the opportunity to join the Order that he founded some 138 years ago.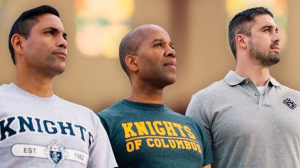 Legacy of Faith and Service | Join the Knights of Columbus