We have exceeded our goal
for the Circle of Honour and
achieved 1818
Achieved Circle of Honour at 101.10%
We need

88 members more to meet the Net.

Let's make it happen and keep it going!
1043 members at 92.24% Net
The fastest and most attractive way is to let your candidate join online and later bring them into your council. Circulate to all your members and in your parish.
ONLY $15 UNTIL THE END OF JUNE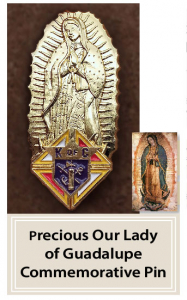 Click JOIN ONLINE and enter the code ONKOFC to get a 50% discount on the first year membership dues (only $15 until the end of June). New online members will get a FREE Our Lady of Guadalupe Pin to wear with pride through the protection of our Holy Mother.
For every new member $30 CAD will go to Leave No Neighbour Behind donated by Supreme.