Submitted by Bro Ken Fleming
Financial Secretary, Our Lady of the Most Holy Rosary Council 15920
Our Lady of the Most Holy Rosary council 15920 located in Burlington has been awarded "Best Council in Ontario" for the fraternal year 2019-2020. Congratulations to outgoing GK Joe Milton, current GK Mark Freeman and the entire council.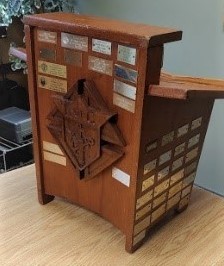 The symbol of this award is the beautiful podium covered with plaques of the many winners over the years. In the picture State Deputy David Peters presents the award to Joe Milton PGK, Ken Fleming FS PGK and District Deputy Vic Lefebvre PGK.
Council 15920 was inaugurated on March 29, 2014 and has grown to 59 members. The council is blessed with 3 priests and a deacon along with a cast of many dedicated faithful catholic men each with diversified skills that allow the council to be active in many varied events. To capsulize the accomplishments that have led to the second "Best Council in Ontario" award for this council is a challenge. The council has taken the lead in building a strong bond with the Special Olympics movement in Ontario which has resulted in the Special Olympics athletes participating in the annual Basketball Free throw event including competing in the state regionals this year for the first time. The council runs a bottle drive 5 times a year which has raised in excess of $11000 in support of Special Olympics over the past 5 years and this council also leads the flag relay activities for the district each year. Members of council 15920 represent the core of male lay support for the Holy Rosary parish including church ministries, minor maintenance projects around the church and the school and hosting many church community events such as Roses for Life, Shrove Tuesday and Valentines events among others.
Community activities include weekly collection of fresh bread every Sunday from COBS bread and distribution to the needy including food banks, churches and the Salvation Army, the annual Longo's food drive which this council organizes and which results in thousands of pounds of non-perishable food going to the Good Shepherd food bank. Donations from the council support the Compassion Society of Halton, Habitat for Humanity (this council led by one of its members spear headed a local campaign which raised over $25000 for the 18 unit build recently completed in Burlington), Halton Catholic Children's Education Foundation and the local Scout troop among others.