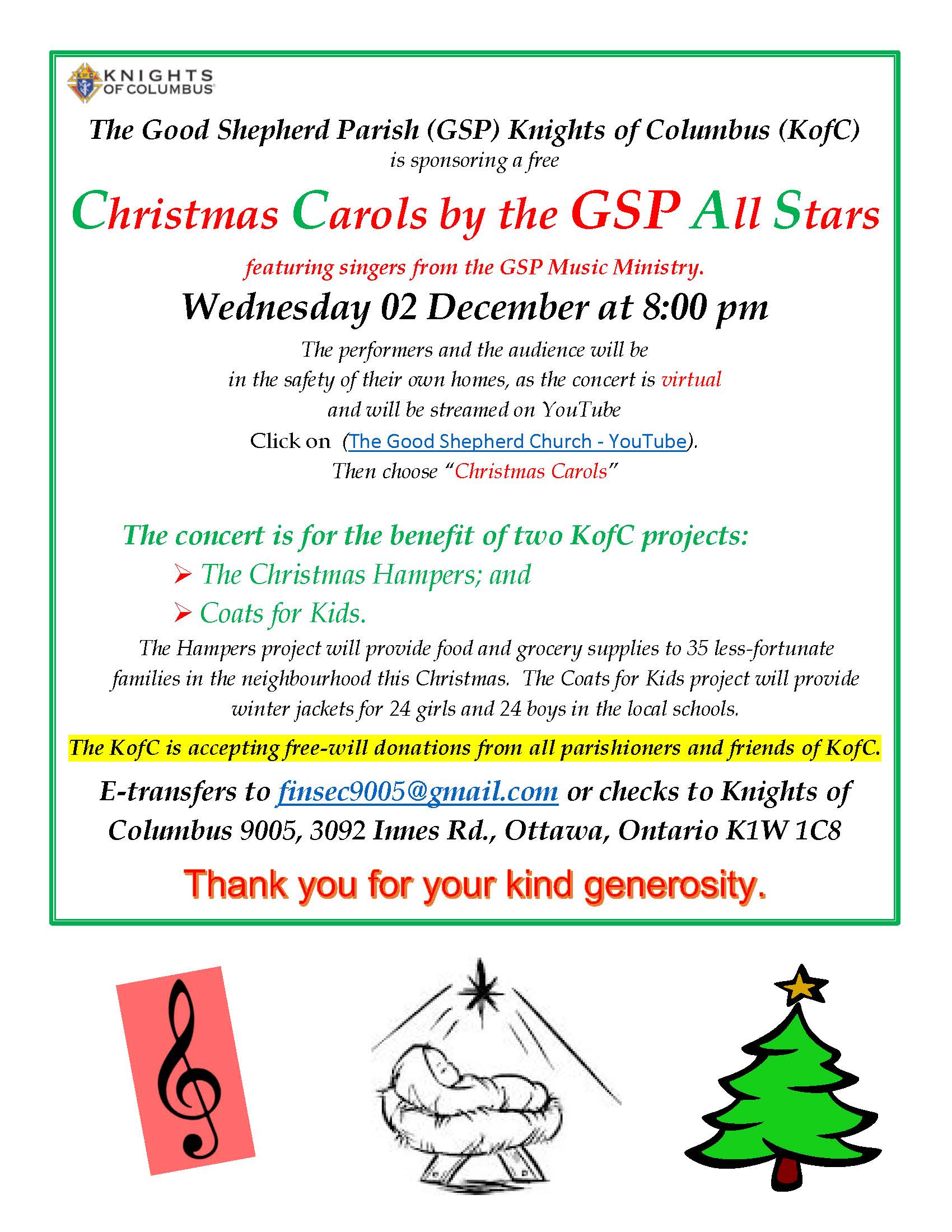 Christmas Carols by the Good Shepherd All Stars of Council 9005
December 2, 2020 @ 8:00 pm

-

9:00 pm
On behalf of the Knights of Columbus of the Good Shepherd Parish (Council 9005), it is my pleasure to invite you all to the "Christmas Carols by the Good Shepherd All Stars", on December 2, Wednesday, 8-9PM. This free online concert will be performed by members of the GSP Music Ministry.
The incoming Archbishop of Ottawa-Cornwall, Coadjutor Archbishop Marcel Damphousse has provided a message in support of the concert and the projects for the less-fortunate families in our communities, which will be read during the show.
Here is the link, you may want to access it just before 8PM, but it will only activate at 8PM, Dec 2.   https://youtu.be/tE9paR-6HBg
As you are aware, this concert is being presented to support our two important projects at this time of year: the Food for Families (Christmas Hampers) and the Coats for Kids.  The Hampers project will provide Christmas food and groceries for 35 less-fortunate families in the neighborhood. The Coats for Kids will provide winter jackets for 24 girls and 24 boys in the local schools. We have had a successful fundraising drive so far, but donations are still coming in; this concert is also our way of saying "thank you" to our own Parishioners, Brother Knights, all the businesses in Ottawa, and friends from beyond, who supported our drive.
We have made special arrangements to ensure nobody needs to drive home after the concert. Please get yourself a glass of wine and enjoy the concert with your families.
 Thank you very much!!
 DEM MAGMANLAC, Grand Knight  – Ontario Council 9005