My Brothers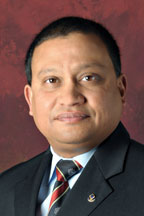 For all of us Catholics, Easter is the most important day in our Church calendar, the culmination of the Holy Week and the triumphant Resurrection of our Lord Jesus Christ. We spend time in church every day, right from Maundy Thursday to Easter Sunday, just reliving and experiencing the amazing beginnings of Christianity and rejoicing in our gift of Eternal life. Yet, for all of us, we are going through a second year of not being able to celebrate Easter with extended family and friends.
Though we have to keep a safe distance between each other, God does not distance himself from us.
Difficult though it is, we must hold on to this faith and hope. Christ's empty tomb is proof that no matter how bad things may seem, there is always hope for a new day.
The message of Easter is that all things can be made New.
May God revive all our hopes this Easter. May the Resurrection of our Saviour be a constant reminder of His love and promise of Eternal Life.
My family joins me in wishing you and your families a very Happy Easter, filled with hope, joy and peace.

Vivat Jesus
David Peters
Ontario State Deputy