Marcel Lemmen
State Deputy – Député D'État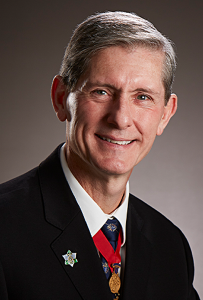 Marcel Lemmen was born on October 16, 1963 in The Netherlands and immigrated to Canada with his family in 1968. He received a Bachelor of Applied Science degree in engineering and management sciences from the University of Waterloo in 1989 and is a licensed Professional Engineer.
Marcel married Charlene in 1994 and they have a daughter, Grace. He is currently the Operations Manager for his family business, E.M. Precise Tool Ltd.
Marcel joined the Knights of Columbus in 1997 at St. Francis Xavier Council 12067 in Mississauga. He served in many executive positions in that council including two terms as Grand Knight. In 2007 he moved to Stoney Creek and helped start Immaculate Heart of Mary Council 14421, serving as the Charter Grand Knight. Marcel served three terms as the District Deputy of District 60 in Hamilton before being appointed in 2013 to the Ontario State Board as the Director of New Council Development and Round Tables. In 2015, he was elected State Advocate, in 2017, State Treasurer, and in 2019, State Secretary. He has been an active member of the Fourth Degree since 2005.
When not busy with the Knights, Marcel is an avid cyclist and runner, and has completed over 30 full marathons, including the Boston Marathon twice.
E-mail: statedeputy@ontariokofc.ca
Bishop Joseph Dabrowski, C.S.M.A.
State Chaplain – Aumönier D'État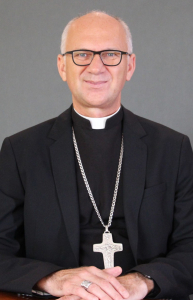 His Excellency Joseph Dabrowski was born in 1964 in Poland, the second of five children. The son of Czesława and Ludwik, he grew up in Wysoka Strzyżowska, a small village in the south of Poland. After graduating from a high school run by the Michaelite Fathers, he chose to enter the Michaelite religious order. After completing one year of the Novitiate he made his first profession in 1982. After one year of internship in Poland, he was selected to study in Italy at the Institute of Philosophy and Theology of Saint Peter in Viterbo. He graduated from the Pontifical Athenaeum of St. Anselm in Rome, obtaining his Master of Divinity. He was ordained to the Priesthood on 4 May 1991 at the Pontifical Sanctuary of Santa Maria ad Rupes, Italy. Four days later, he was assigned to join the Michaelite Fathers community in London, Ontario. In the Michaelite community, Bishop Joseph has served as Vice Superior, Vice Provincial, and Provincial of North American Vice Province.
In 1998 he was named Pastor of St. Mary's Parish in London, where he served until he was ordained Auxiliary Bishop of the Diocese of London on 14 April 2015. Bishop Joseph enjoys serving and speaking with the faithful of many cultures, and celebrating the Catholic faith in many languages. He speaks English, Polish, Italian, Spanish, and French, and has previously studied Russian and Latin.
Bishop Joseph has represented the Canadian Catholic Conference of Bishops as co-chair to the Roman Catholic / Evangelical Dialogue (Episcopal Commission for Christian Unity), and as a member of the Episcopal Commission for Evangelization and Catechesis. As a member of the Assembly of Catholic Bishops of Ontario, he has served on the Commission for Priests Committee, the Social Affairs Commission, and acts as Bishop Liaison to the Ontario Association of Parents in Catholic Education (OAPCE).
Bishop David Douglas Crosby
State Chaplain – Aumönier D'État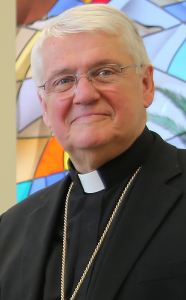 His Excellency Bishop David Douglas Crosby, Oblate of Mary Immaculate (O.M.I.), ninth Bishop of Hamilton, was born in Marathon, Ontario, to David and Natalie Crosby on June 28, 1949.  He was the first of seven children.
Bishop Crosby, was ordained a priest with the Missionary Oblates of Mary Immaculate in 1975.  Over the years he accepted a variety of ministries, including Provincial Superior of St. Peter's Province of the Oblates.  He was ordained a Bishop in 1998 and first served the Diocese of Labrador City-Schefferville.
In 2003, he was appointed Bishop of St. George's Diocese (Newfoundland and Labrador), while continuing to serve as Bishop of Labrador.  Following a realignment of the boundaries, he became the first Bishop of Corner Brook and Labrador in 2007.
Bishop Crosby was appointed Bishop of Hamilton on September 24, 2010, and was installed on November 8, 2010, at a ceremony at the Cathedral of Christ the King.
Bishop Crosby has represented the Canadian Conference of Catholic Bishops on the International Commission for English in the Liturgy (ICEL), serving as its Secretary and Vice Chairman during his tenure.  He has also served on the CCCB Liturgy Commission, as a member of the Permanent Council, as Co-Treasurer, Vice-President and President.
Currently Bishop Crosby serves the Assembly of Catholic Bishops of Ontario (ACBO) as Chair of the Social Affairs Commission. He is the Ontario State Chaplain of the Knights of Columbus.
David Peters
Immediate Past State Deputy – Ex-Député D'État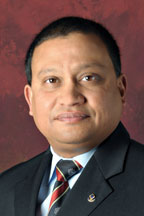 David Peters was born on September 12, 1961 in Madras, India. He is a graduate in Commerce and Business Management and now owns a consultancy firm specializing in Project and Bridge Financing.  David lives in Brampton with his wife Flavia and their two daughters.
He joined the Knights of Columbus in 2001 and since then has been very active in the Order in various roles.  He was Grand Knight of Council # 12214, District Warden, and District Deputy for 3 terms, receiving Star District Awards.  He was instrumental in the formation of Council # 15098 in Etobicoke, and Council # 15329 in Mississauga.
He became a Sir Knight of the 4th Degree with Fr. Gregory Kelly Assembly # 0872 in 2003, and has served in many positions including Commander and Faithful Navigator for 2 terms. He has served the Western Zone as Warden and Secretary, and is a member of the Degree teams.
David served on the Ontario State Board as Warden, Treasurer, Secretary and State Deputy from 2019 to 2021. Under his leadership, Ontario received the Circle of Honour for both years, and the Supreme Knight's Pinnacle Award in 2021.
David is also a Knight in the Order of the Knights of the Holy Sepulchre since 2013, and serves as a Board Member of both Cristo Rei Parish Mississauga, and Martyrs Shrine in Midland.
E-mail: ipsd@ontariokofc.ca
Bruce Poulin
State Secretary – Secrétaire D'État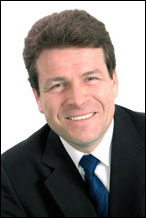 Brother Bruce Poulin, MA, BA(Hon), CD, was born in 1962 in Ottawa. He is a retired military officer who graduated with First Class Honors from the Royal Military College of Canada, Kingston and holds a Master's degree from the School of Advanced International Studies (SAIS) at Johns Hopkins University, Washington, DC., specializing in International Relations majoring in finance and conflict management.
Following in the footsteps of the Poulin family that spans more than 100 years in the Knights of Columbus in Ontario, Bruce joined the Knights in 2007 (Notre-Dames-De-Lourdes de Cyrville, Conseil #8679). Since then Brother Bruce has held virtually all of the positions afforded an elected officer – including Grand Knight (Jean Paul I, Conseil #8585) and District Deputy (District #54). He is also a member of the fourth degree (Assemblée #1693). In April 2015, he was elected as the Ontario State Warden.
Fraternal organizations, youth clubs, Church activities, neighborhood and civic associations, pro-life, sports and recreational activities have long been a staple in Bruce Poulin's life. Indeed, he has more than 30 years of community service. Of note of his exceptional community work, Bruce was awarded the Queen's Golden and Diamond Jubilee medals in 2002 and 2012 respectively.
Brother Bruce retired from the Canadian Armed Forces after 22 years of service to his country. Since then he has worked at the national headquarters of The Royal Canadian Legion in the Marketing and Membership department as the Manager of Communications.
He is married to his loving spouse, Zoye are active members of the Holy Spirit Church in Stittsville and they have five children, Jean-Mathieu, Dayna, Olivier, Rylan and Catherine.
E-Mail: statesecretary@ontariokofc.ca
David Gelinas
State Treasurer – Tresorier D'État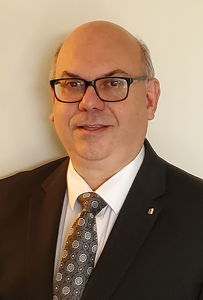 David was born in June 1965 in Windsor. He was the first generation in his family born in Ontario. His ancestors, father and son, came over from France in the 1670's and generations lived in Quebec. David graduated from F.J. Brennan Catholic HS in Windsor in 1984 and received a diploma from St Clair College in computer/electronic technician in 1990. David's hobby in computers continues today to help friends with computer problems and keeping two K of C websites he created regularly updated.
David retired from Chrysler Canada (FCA then now Stellantis) in Aug 2020 after 35 years. David married Lori (nee Blair) in July 1992 and they were blessed with 2 daughters, Taylor and Kelcie. Their family pet is Berkley a nine year old male American Cocker Spaniel and David says Berkley makes him laugh every day.
Lori is a convert to the Catholic faith through the RCIA program in 2002. Lori says David was "converted" first, from a city boy to a county boy, when they moved to the quaint small town of Kingsville after the birth of Taylor in London.
David joined the Knights in Feb 2002 and was the first knight in his council to achieve the Shining Armor award which David says is a great mentoring program. His brother knights entrusted him as Grand Knight of Council #8233 (Kingsville) from 2005 to 2007 and both years the council achieved the Star Council award. David was instrumental to establish Squires Circle #5147 in Nov 2006 in the name of the late Constable John Atkinson (3rd degree knight). David served as a Faithful Navigator of Fr Louis Boué Assembly #2355 (Amherstburg) from 2009 to 2011, District Deputy 21 from 2012 to 2015, Financial Secretary/Treasurer of the London West Diocesan Association from 2011 to 2015 and State Membership Retention Director from 2015 to 2017, State Bursary Director from 2017 to 2019, State Warden 2017-2019, State Advocate & State Accountability Officer for Safe Environment 2019-2021.
David and Lori have taken to heart Supremes' message that joining the Knights of Columbus is "an experience of a lifetime" and they treasure most, the relationships with the men and ladies they meet along their journey.
Joe Bodnar
State Advocate – Avocat D'État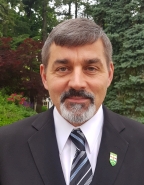 Joe was born on June 13, 1960 in Toronto but after being adopted he was raised in Oshawa where he attended elementary and high school graduating from O'Neill Collegiate in 1977. After having various part time jobs as a teenager, he accepted a full-time position at General Motors in Oshawa on October 5, 1979 and retired November 1, 2009 with 30 years service. Since retiring he runs his own contracting business.
Joe became a member of St. Joseph the Worker Council 9989 in Oshawa 22 years ago and was instrumental in starting the S.K. Leonard T. Smith Squires Circle 4742 where he was the Chief Counsellor for the Circles first 10 years. His Circle was very successful and won many awards from Supreme and also the Circle of the Year for two consecutive years. He was as an Area Chairman for Metro East, the New Circle Development Chairman for Ontario and then spent six years as the State Squires Director. He worked with Supreme to set up the Safe Environment program for the Squire Counsellors and also was asked for his advice on how to improve the Squire program. He has held many other volunteer positions with the State Board including the Basketball Free-Throw Chairman, Program Director, Mission Chairman and the State Convention Director. He has also made three mission trips to Kingston, Jamaica to volunteer with Fr. Ho Lung's Missionaries of the Poor.
Joe and Tricia have 5 children, Adam, Stephanie, Ashley, Alan and Brent and are blessed with three adorable grandchildren, Amelia, Austen and Allie. They have numerous nieces and nephews and both agree that family time is very important. This year they will be celebrating their 28th wedding anniversary. In their free time they like travelling and Joe still continues to enjoy playing winter ice hockey and summer ball hockey.
Joe thanks the local councils for electing him to serve the members on the Ontario State Board as the State Warden and presently as the State Advocate. He looks forward to working for you and with you to ensure the success of your local Councils and hopes to see Ontario be the number one jurisdiction in the Order.
Email: stateadvocate@ontariokofc.ca
Henry Miller
State Warden – Cérémoniaire d'Etat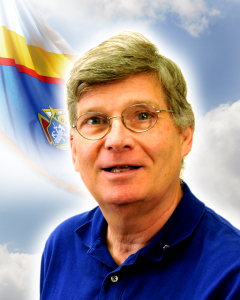 Henry Miller was born on Candlemas of 1956 in Toronto and has been a lifelong resident of Toronto and a seasonal resident, since 1970, of Prince Edward County. He has worked at the Toronto Historical Board, in public accounting and was Finance Manager of the Catholic Children's Aid Society of Toronto for thirteen years. In 2021 he retired, after seventeen years, from the Ontario Public Service (OPS) where he served in the Director's Office of the Financial Management Branch of the Ministry of Health and the Ministry of Long-Term Care. He also enjoyed being faculty for OPS wide courses in financial and risk management. He has a BA in Political Science and Economics from the University of Toronto and is a Chartered Secretary (FCM/FCIS). He is President & Principal of Presentation, Governance, Finance & Administration, Communications, and a parliamentarian. Henry joined the Knights in 2003 (Toronto Council 1388), serving as Grand Knight and in a variety of other positions on the Executive. He also is a member of Cardinal McGuigan Assembly 865 and has served on the Assembly Executive. He was a District Deputy from 2015 to 2021 (District 5) and was founding Treasurer and later Chair of the Toronto Central Archdiocesan Zone (TCAZ).
Following the example set by his parents, Henry has long been active in the Church and in community and professional organizations, serving as a Board Member, Executive and Chair. He is a member of Our Lady of Perpetual Help Parish, Toronto, assisting in various ministries, including the choir and Pastoral Council, and St. Gregory the Great Parish, Picton.
Henry and his loving and lovely wife, Lynn, have been married since 1983 and are proud parents of Sebastian (Lauren), Victoria, Emily and Juliana and doting dog grandparents of Ted and Harvey.
Henry is thrilled to serve as State Warden.
E-mail: statewarden@ontariokofc.ca